HP Series: Hot Water Pressure Washer - Portable Electric, Diesel Heated with Exceptional Heat Output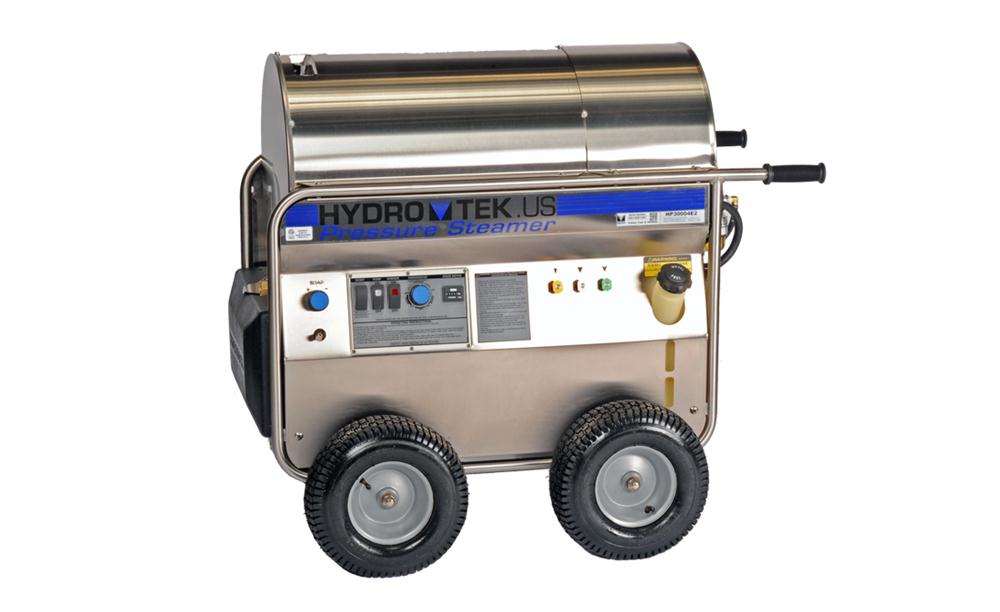 The portable HP Series hot water pressure washer delivers a balance of pressure, water flow and heat required for the fastest cleaning. A side-by-side demonstration will show that cleaning performance is determined more by the combination of water, heat, and flow, not just pressure. The HP Series hot water pressure washer has the high capacity burner to accommodate high water flow and achieves a higher temperature rise than other washers and saves valuable time and effort. To save you even more time, it features auto on/off, remote downstream soap control and adjustable pressure, giving the operator control at the spray gun and saving pump components and wear. It even has full pressure steam setting to clean faster on heavy equipment, greasy floors, dirty walls, oily steel or any grime-ridden surface.
Features:
High Heat / High Flow System:
The balance of heat and flow increases your cleaning power providing a consistently superior performance. Auto-ignition for peace of mind & ease of operation. High capacity diesel burner with higher temperature rise for faster cleaning.
SpiraLast™ Coil:
The coil is a Hydro Tek manufactured SpiraLast™ heating coil. Robotically fused ½" schedule 80 steel pipe is cold rolled to protect the steel pipe from fatigue and the spiral coil is then surrounded by ceramic insulation and stainless enclosure with double-wall end caps. Check out our lifetime coil warranty.
Auto Start and Time Delay Shutdown:
With HP Series Hot Water Pressure Washers the operator has total control over the system from the trigger gun. This added convenience not only saves time and effort, it reduces wear and overheating of the pump and produces an energy efficient system that outperforms the traditional manual on/off.
Stainless Steel Coil Housing, Frame and Panels:
Rust-proof durable panels offer corrosion resistance and protection of your valuable investment from the harshest environments. Keeps your machine looking like new for years to come. Screw connects provide easy removal for full access to all major components and the ultimate in serviceability.
Adjustable Temperature with Steam Setting:
Front mounted controls allow quick and easy adjustments of temperature and steam settings with higher heat than comparable washers for your toughest cleaning applications.
NEMA4 – Water-Tight Control Panel:
ETL certified to UL1776 Class 2, for use in wash-down area, exceeding Industry standards. Special Hydro Tek control box features easy to use controls and provides instant access to electronics. Dual voltage switch on most 230v models allows you to simply flip a switch to change to 208v power supply.
CAT Direct Drive Pump:
High torque, low RPM drive – cooler, quieter, continuous duty performance. These Industrial triplex pumps outperform the competition in longevity – featuring concentrically bored & polished, graphite impregnated ceramic plungers with advanced seal design.
Diesel Fuel Tank with filtration:
Heavy Duty "roto-molded" rust-free fuel tank with water separating fuel filter to protect against contaminated fuel. Extended run time (up to 5 hrs) eliminates interruptions.
Chemical Injection:
Equipped with inlet soap injection combined with precision chemical metering valve and float tank to inject soap at full pressure for optimal cleaning effectiveness. Panel mounted controls enable the operator to vary the mixture of soap or other additives with ease.
Portability:
HP Series comes standard with four large tires mounted on stainless axles and two lift handles.
More Standard Features
Heavy duty industrial motor with thermal overload protection
Burst disc technology for operator safety
Insulated quick connect nozzles
50' of heavy-duty high-pressure hose
Stainless adjustable pressure wand and heavy-duty trigger gun
Panel mounted hour meter
Heavy Duty Hose 50', 250° Rated
Adjustable Pressure Wand
Optional Features and Accessories:
Stainless Steel Hose Reel
Turbo Nozzle
Hydro Twister® concrete cleaner
Wet Sandblast Assembly
Hose and Wand Extension
Specifications

Model
PSI
GPM
Temp.
HP
Voltage
HP20005E8
2000
4.2
250° F
6.5
208/230v 1ph 30a
HP22005E2
2200
4.2
250° F
6.5
230v 1ph 27a
HP30004E2*
3000
3.9
250° F
8
208/230v 1ph 34a
HP35005E3
3500
4.3
250° F
10
230v 3ph 28a
HP35005E4
3500
4.3
250° F
10
460v 3ph 13a
*ETL / UL1776 Certification is optional for HP30004E2
Dimensions: 46″l x 29″w x 39″h
Specifications may vary.