Eagle Series Gas Engine Gear Drive
Pick this up in our Chicago Store:
Call for a free demo of this or other products we carry.
The Eagle Series Gas Engine Gear Drive is a hot commodity on the industrial cleaning market, but finding the best company to buy from can be difficult - until you meet Windy City Cleaning Equipment and Supplies. Our dedication to providing you with the best pressure washer units available makes it easy for your to the find the perfect pressure washer replacements to help you get back on the job without wasting precious work hours.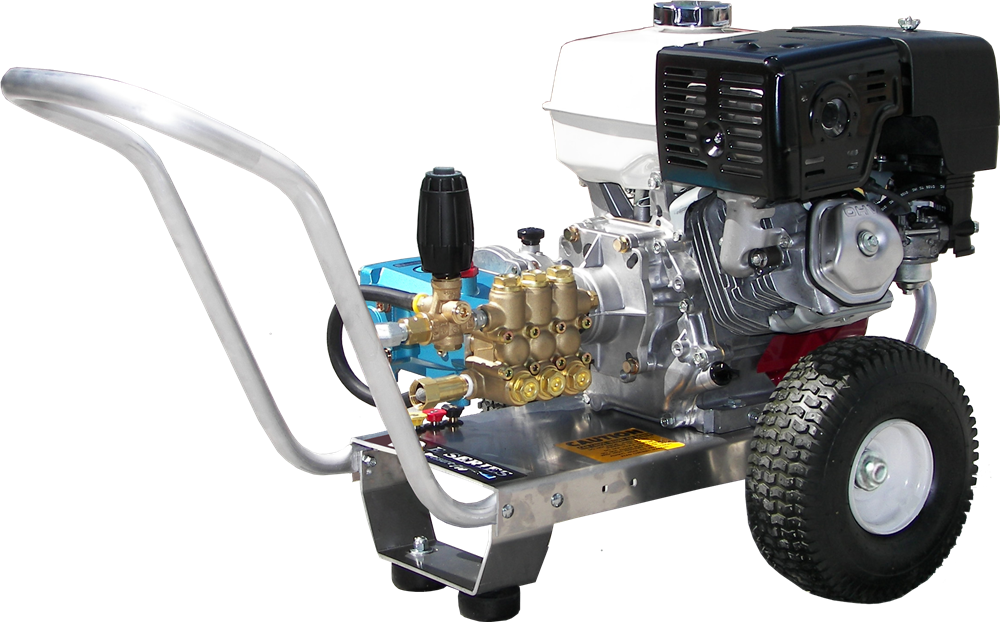 Features

of the Eagle Series Gas Engine Gear Drive

:
Revolutionary aircraft grade aluminum frame with dual handles (no welds to fail)
Lifetime frame warranty
Easy access single bolt interlocking belt cover-belt drive models only
Single bolt engine adjustable belt tension-belt drive models only
50 mesh inlet filter
Adjustable pressure unloader
Low oil shutdown
Pneumatic tires
Dual padded shock absorbing feet
3/4″ cold-rolled steel threaded axle
Commercial/Industrial grade engines
Thermo-sensor (prevents overheating in bypass mode)
Accessories

of the Eagle Series Gas Engine Gear Drive:
Gun/wand assembly w/quick connects
50′ high pressure hose w/quick connects
Chemical injector assembly w/quick connects
4 color-coded QC spray nozzles
1 color-coded QC chemical nozzle
Pressure Washer Comparison Chart:

| Part # | GPM | PSI | Model/Brand | Pump |
| --- | --- | --- | --- | --- |
| EG3515HG | 3.5 | 1500 | GX200 Honda | GP |
| EG3020HCP | 3.0 | 2000 | GX200 Honda | CAT |
| EG4035HCP | 4.0 | 3500 | GX390 Honda | CAT |
| EG4040HCP | 4.0 | 4000 | GX390 Honda | CAT |
| EG4040HG | 4.0 | 4000 | GX390 Honda | HP |