HDC Tow-Pro-Jet Trailer
COME SEE THE HDC TOW-PRO-JET TRAILERS SERIES AT WINDY CITY CLEANING EQUIPMENT CHICAGO.
CALL FOR A FREE DEMO OF THIS OR OTHER PRODUCTS WE CARRY.
Based out of West Chicago, IL, Windy City Cleaning Equipment and Supplies is dedicated to bringing you the best Pressure-Pro products.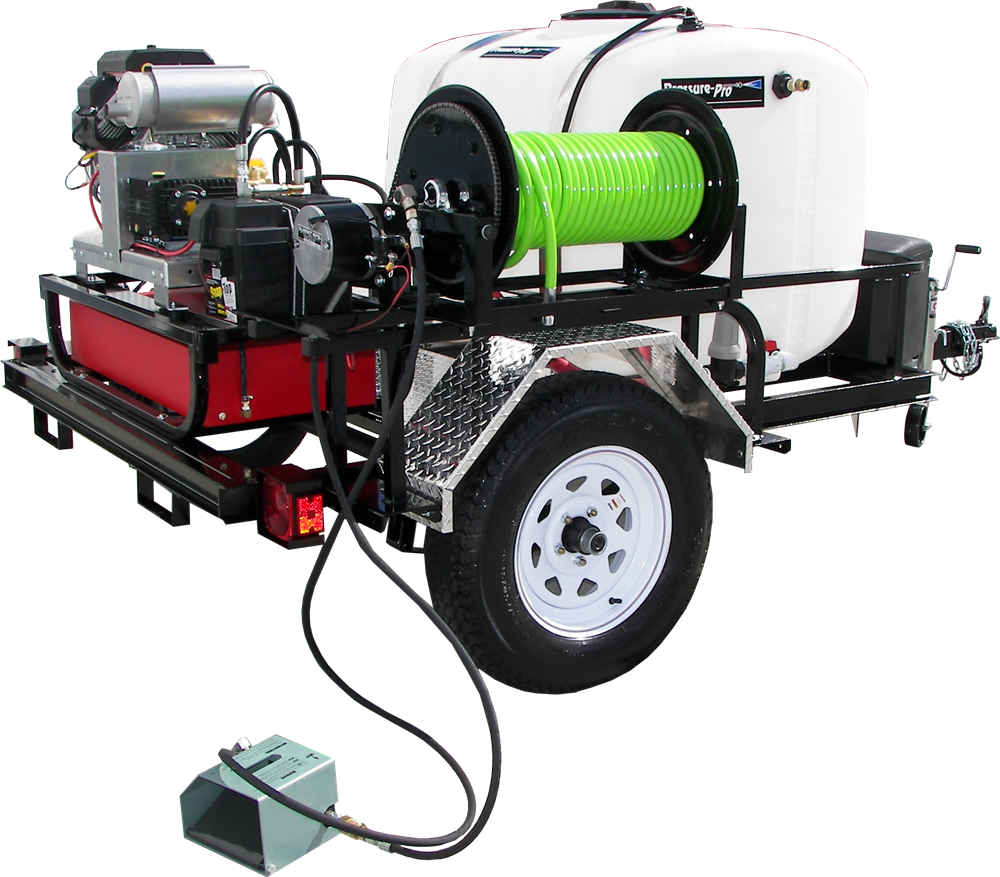 Trailer Features:
500′ x 3/8″ or 350′ x 1/2″ capacity electric high pressure hose reel
Chemical resistant coating
200 gallon water tank w/ float valve
Poly tool box
Lights, jack w/ wheel, & safety chains
Fully tested and assembled in the USA
HD trailer (forkliftable) 3500# capacity axle, 135″L x 82″W x 60″H
Aluminum fenders,15″ wheels/tires, external grease fittings.
NOTE: All units are completely factory assembled, tested in the USA, and delivered ready to operate.
HDC Jetter Skid Features:
Rugged powder coated steel frame
On board 12 gallon poly fuel tank-Non-Carb Evaporative Compliant
Full sized battery w/ marine battery box
Commercial/Industrial gasoline engines
Engine and pump oil drains offer easy maintenance
Polychain or V-belt drive
Pressure regulating unloader
Pump Mounted Jetter Pulse Valve
Foot Valve w/ 8′ Jumper Hoses
6-Nozzle Rack w/ 3 Nozzles Included: Penetrator-dislodges blockage (1 Forward Jet, 3 Black Jets)
Flusher-flushes loose debris (6 Back Jets)
De-icer/De-greaser-removes grease, hard soap or even ice from heavily blocked lines (3 Forward Angle Jets, 6 Back Jets)
Gas Engines / Polychain Drive Trailer Models

Part#
GPM
PSI (w/o hose)
Model/Brand
Pump
* TRHDCJ/B1030KG
10.0
3000
CH740 Kohler
GP
* TRHDCJ/B1228KG
12.0
2800
CH750 Kohler
GP
*TRHDCJ/B1230KG
12.0
3000
CH980 Kohler
GP
* 1/2'' hose available with these models only
Gas Engines / V-Belt Drive Trailer Models

| Part# | GPM | PSI (w/o hose) | Model/Brand | Pump |
| --- | --- | --- | --- | --- |
| TRHDCJ/VB5535VG | 5.5 | 3500 | 18 HP Vanguard | HP |
| TRHDCJ/VB5535HG | 5.5 | 3500 | GX630 Honda | HP |
| TRHDCJ/VB8035HG | 8.0 | 3500 | GX690 Honda | GP |