Pro-Max Gas Engine Polychain Belt Drive
COME SEE THE PRO-MAX SERIES AT WINDY CITY CLEANING EQUIPMENT CHICAGO.
CALL FOR A FREE DEMO OF THIS OR OTHER PRODUCTS WE CARRY.
Based out of West Chicago, IL, Windy City Cleaning Equipment and Supplies is dedicated to bringing you the best Pressure-Pro products.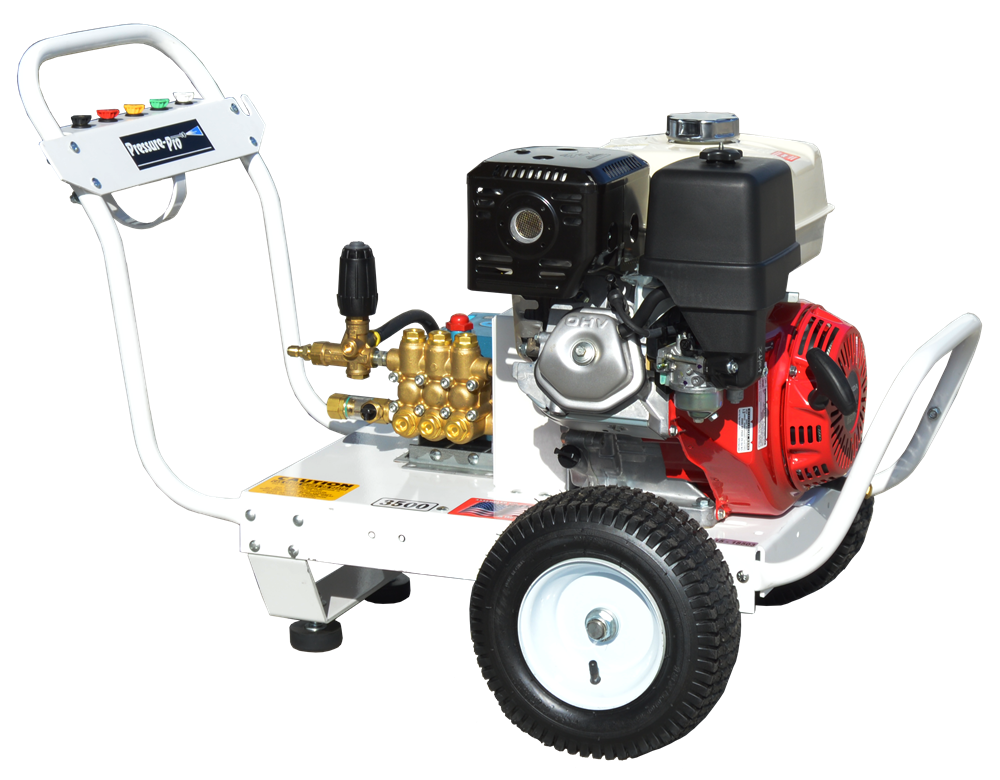 Standard Features:
Revolutionary aircraft grade aluminum frame with dual handles (no welds to fail)
Lifetime frame warranty
Easy access tip holder/gun holder/hose hanger on handle
Epoxy powder coated finish
10,000 hour rated Gates polychain cogged belt (2-year warranty)
50 mesh inlet water filter – *excludes 8 thru 15 GPM units
EZ-Start
Adjustable pressure unloader
Low oil shutdown except GX690 models
Engine oil drain offers easy maintenance
Oversized pneumatic tires
Dual spring cushioned shock absorbing feet
3/4″ cold-rolled steel threaded axle
Commercial/Industrial grade engines
Low-speed pump and thermo-sensor (prevents overheating in bypass mode)
NOTE: *8 thru 15 GPM units set up for tank feed.
NOTE: All units are completely factory assembled, tested in the USA, and delivered ready to operate.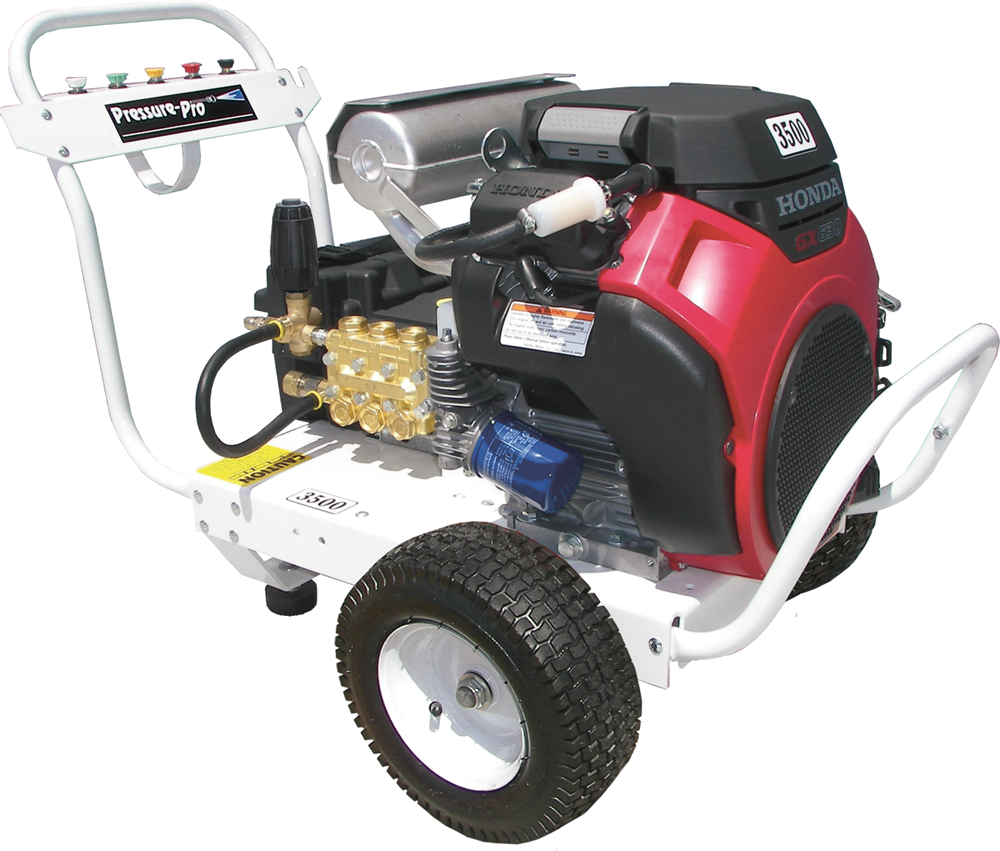 Standard Accessories:
Gun/wand assembly w/quick connects
50′ high-pressure hose w/quick connects
Maxi-Flo 20% chemical injector assembly w/quick connects
4 color-coded QC spray nozzles
1 color-coded QC chemical nozzle
NOTE: Electric start is standard on V-Twin engine models and includes a battery, marine battery box, and remote 6-gallon poly fuel tank.
Pressure Washer Comparison Chart:

| Part# | GPM | PSI | Model/Brand | Pump |
| --- | --- | --- | --- | --- |
| B1520KCEA125 | 15.0 | 2000 | CH750 Kohler | CAT |
| B1228KGEA105 | 12.0 | 2800 | CH750 Kohler | GP |
| B8030HGEA406 | 8.0 | 3000 | GX630 Honda | GP |
| B1030KGEA390 | 10.8 | 3000 | CH750 Kohler | GP |
| B4035HCP407 | 4.0 | 3500 | GX390 Honda | CAT |
| B4035HG403 | 4.0 | 3500 | GX390 Honda | HP |
| B5535HAEA409 | 5.5 | 3500 | GX630 Honda | AR |
| B5535HGEA403 | 5.5 | 3500 | GX630 Honda | HP |
| B8035HAEA406 | 8.0 | 3500 | GX690 Honda | AR |
| B8035HGEA406 | 8.0 | 3500 | GX690 Honda | GP |
| B4040HG403 | 4.0 | 4000 | GX390 Honda | HP |
| B5540HAEA409 | 5.5 | 4000 | GX630 Honda | AR |
| B5540HGEA403 | 5.5 | 4000 | GX630 Honda | GP |