Pro-Super Skid Tow-Pro Trailer
COME SEE THE PRO-SUPER SKID TOW-PRO TRAILER SERIES AT WINDY CITY CLEANING EQUIPMENT CHICAGO.
CALL FOR A FREE DEMO OF THIS OR OTHER PRODUCTS WE CARRY.
Based out of West Chicago, IL, Windy City Cleaning Equipment and Supplies is dedicated to bringing you the best Pressure-Pro products.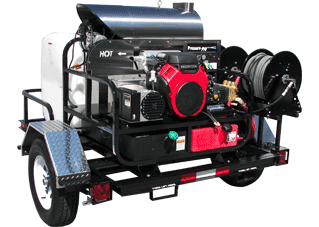 TRAILER FEATURES:
2- 250′ high pressure hose reels
Chemical resistant coating
200 gallon water tank & Poly tool box
Lights, jack, w/ wheel & safety chains
Fully tested and assembled in the USA
HD trailer (forkliftable) 3500# capacity axle, 135″L x 82″W x 60″H
Aluminum fenders,15″ wheels/tires, external grease fittings.
PRO-SUPER SKID FEATURES:
Rugged powder coated steel burner frame
Super efficient schedule 80 coil
Stainless steel coil wrap, burner hood, and control panel
On board 15 gallon poly fuel tank-Non-Carb Evaporative Compliant
Reliable Honda & Vanguard gasoline Commercial/Industrial electric start engines
Includes full size 12 volt battery and marine battery box
Fully self-contained, no external power required
Choice of reliable AR, Cat and General pumps
Reliable Beckett burners
Adjustable thermostat
3VX belt system offers balanced power transfer
Engine and pump oil drains offer easy maintenance
Safety pressure relief valve
NOTE: 12V units include 20 amp charging system. 115V units include 2500 watt generator.
NOTE: All units are completely factory assembled, tested in the USA, and delivered ready to operate.
STANDARD ACCESSORIES:
Gun/wand assembly with insulated grip and quick connects
50′ high pressure hose w/quick connects
Maxi-Flo 20% chemical injector assembly w/quick connects
4 color-coded QC spray nozzles
1 color-coded QC chemical nozzle
| | | | | |
| --- | --- | --- | --- | --- |
| Part# | GPM | PSI | Model/Brand | Pump |
| GAS ENGINE 12V | V-BELT DRIVE TRAILER MODELS | (Without Hose) | | |
| TR4012PRO-40HC | 4.0 | 4000 | GX390 Honda | CAT |
| TR4012PRO-40HG | 4.0 | 4000 | GX390 Honda | HP |
| TR6012PRO-35VG | 5.5 | 3500 | 18 HP Vanguard | HP |
| TR6012PRO-40HG | 5.5 | 4000 | GX630 Honda | GP |
| TR8012PRO-35HG | 8.0 | 3500 | GX690 Honda | GP |
| GAS ENGINE 115V | V-BELT DRIVE TRAILER MODELS | (Without Hose) | | |
| TR6115PRO-35HG | 5.5 | 3500 | GX630 Honda | HP |
| TR6115PRO-40HG | 5.5 | 4000 | GX690 Honda | GP |
| TR8115PRO-30HG | 8.0 | 3000 | GX690 Honda | GP |
| TR8115PRO-40KG | 8.0 | 4000 | CH750 Kohler | HP |